All Saints' Westboro, located at 347 Richmond Road in Ottawa, is a parish of the Anglican Diocese of Ottawa, a diocese of the Anglican Church of Canada, and a part of the worldwide Anglican Communion.
We are a progressive, inclusive, and affirming community of Christians on a journey of spiritual growth. We seek compassion and justice for all by:
Worshipping God
Welcoming all
Nurturing each other
Working for social justice
Reaching out to the world
We call ourselves "a Christian community in action." We celebrate God's love for the world by reaching out to our neighbours, both near and far.
Anglicans are members of a worldwide family of churches, 44 regional, national or member churches tracing their descent from the church in England. The Anglican Church of Canada is one of these member churches, self-governing in its decision-making but working together with others in the family of churches called the Anglican Communion.
The Venerable Christopher Dunn
Incumbent of All Saints' Westboro
Archdeacon of Ottawa West
Chris was born in England but raised in Sarnia, Ontario. He attended Huron University College in London, Ontario where he received his B.A. and M.Div.
Chris was ordained to the Diaconate in 1981, and his first assignment was as Missionary-in-Charge of the Parish of Inukjuak in the Diocese of the Arctic. Chris came to the Diocese of Ottawa and was ordained to the Priesthood in 1982. Chris has served in several parishes of the Diocese of Ottawa including Stafford, Bearbrook-Vars-Russell, St. Mary's Russell, Metcalfe, Vernon and Greely, St. John the Baptist Church, Kars, and Trinity Church, Ottawa.
Chris also worked for the Shepherds of Good Hope in Ottawa in their shelter and support programs before becoming Director of Personnel. In addition to Parish work he provided an Anglican presence at Carleton University and was Chair of the Board and the Council of the Carleton Ecumenical Chaplaincy. He has served the Diocese of Ottawa as the Archdeacon of Ottawa Centre and more recently as the Archdeacon of Ottawa West.
He became the Incumbent of All Saints' Westboro (Ottawa) on November 30th, 2008. He is known for using puppets at the beginning of the 9:30 am service to tell a story and prepare the children for Sunday School.
Chris is married to Blanche and they have four children and seven grandchildren.
The Rev. Chung Yan (JoAnne) Lam
Associate Incumbent (she/her/hers)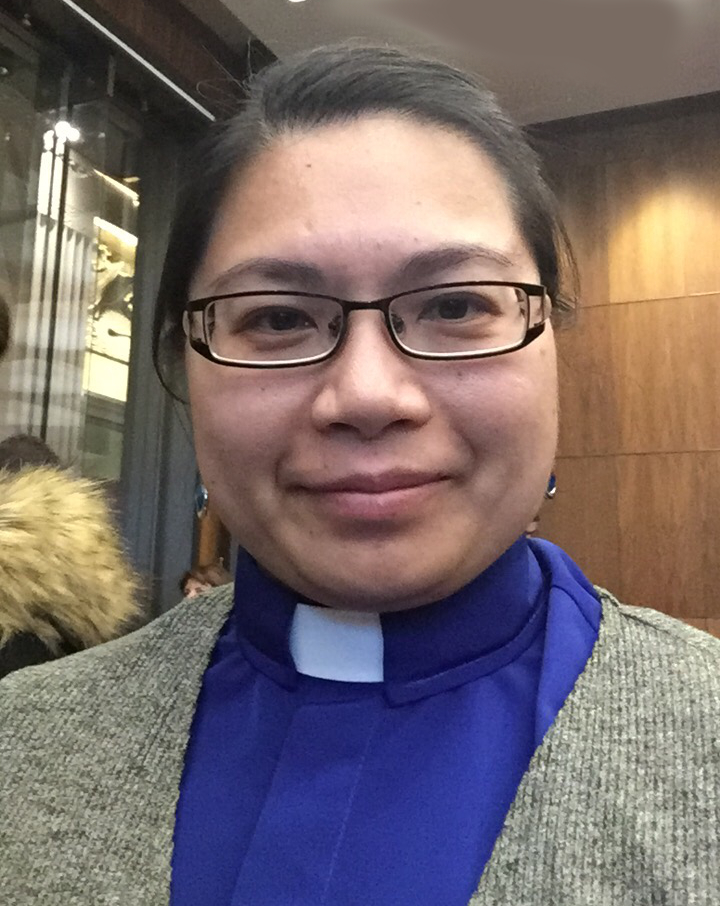 Hello! For starters, my first name is Chung Yan (z-joong y-en) and my family name is Lam (lam). The pronunciation in the brackets reflects the Cantonese dialect. My name in Chinese characters looks like this 林頌恩 。I was born in Hong Kong and we immigrated to Canada as a family when I was in elementary school, to the busy town of Moose Jaw, Saskatchewan.
Rev. Chung Yan Lam began serving as the Associate Incumbent of our Parish on May 12, 2022. 
Rev. Chung Yan comes to this parish as an active expression of our full communion between The Evangelical Lutheran Church in Canada and the Anglican Church of Canada. We honour this opportunity to be a witness to the ecumenical partnership between our Christian traditions. Read more about the Waterloo Declaration, the foundational document on our full communion relationship with commentary from the Anglican Church of Canada.
Ordained into parish ministry in the Evangelical Lutheran Church in Canada and served between 2016 and 2019 in Lutheran parishes in the Ottawa area. Since 2019, I had the privilege to be invited to serve as the Incumbent of the parish of Bearbrook-Navan-Blackburn. I am passionate about ecumenism, a strong advocate for mental health awareness, and building bridges towards racial justice in our churches and communities. 
Being a lover of music and curious foodie, I look forward to meeting you over an afternoon tea or a meal, breaking bread together is a wonderful way to get to know one another and let our stories mingle. Transformation begins with a smile and hospitality..
 The Reverend Deacon Jarrett Carty
Jarrett was ordained a deacon in 2018, and serves in the parish of All Saints, assisting with pastoral care, preaching, and teaching. He also serves as the chaplain at St. Luke's Table, a Community Ministry in the Diocese of Ottawa, which provides meals and support to those in need in the urban core.
Jarrett is also a professor in the Liberal Arts College, Concordia University (Montreal) teaches in western civilization and philosophy courses and history of science courses through a "great books" curriculum. His specialty is the early modern period in political thought, concentrating on Martin Luther, the Reformation, and the Renaissance, but he also has a wide range of academic interests, including ancient Greek philosophy, early modern science, the American Founding, and the history of astronomy.
Jarrett and his wife Nikki, have two daughters, Hannah and Olivia.
Edith Troup
Music Director
edithtroupmusic.wordpress.com
edith.troup@gmail.com
As Director of Music, Edith plays piano or organ for all church services, and directs and accompanies the adult choir. Edith is also available to provide musical accompaniment for weddings and funerals.
Linda Lord
Children and Youth
Linda Lord is All Saints' Westboro's new Coordinator for Children and Youth Ministries, replacing Julie Newlands who retired from the position in late December.
Linda has been a parishioner at All Saints' since 2011, serving as a member of Parish Council and as a Eucharistic Minister and Church School volunteer. A graduate of the University of Toronto and the University of Ottawa, Linda had a 35-year career with federal public service before retiring in 2022.
Linda looks forward to engaging with All Saints' children and youth, their parents, and the broader church community, as we work together to help our young people grow in their faith. Linda can be reached by email at childrenandyouth@allsaintswestboro.com.
Helen Norman
Parish Administrator
Helen came to All Saints' as a parishioner after a long absence from the Anglican Church of her childhood. She started slowly, bringing her son to services once a month, then twice a month, and eventually almost every Sunday. She quickly became an active member of the parish, teaching Sunday School and attending many of the wonderful events that happen in this vibrant parish.
Helen has a BA in English Literature from Carleton, which she used to find work as an editor at the Canada Revenue Agency and then at the Office of the Auditor General of Canada. After she left the government, to become a stay-at-home mom, she became very involved in her son's school (becoming chair of the parent council) and was a busy volunteer in her community. In November 2017, she started working part time as a Parish Administrator at All Saints' with St. Matthias and transitioned to full time in June 2018.
When she is not working in the church office, Helen enjoys spending time with her husband, Mike, and her son; taking photographs; playing Scrabble, sometimes competitively; cross stitching; and, as of quite recently, writing (she's even had a couple of articles published in CrossTalk).
Paul Dumais
Church Caretaker
Anglican Theology
Anglican theology is shaped by three factors: Scripture, Tradition (the collected wisdom of the church over centuries) and Reason (God's gift of understanding and balanced judgment). We use all three to look at our own experience as we try to discern God's will. Anglicans place a high value on scholarship and study.
Within the Anglican Communion, there is a variety of views and practices. We see doctrine as something that is not fixed for all time but is always changing and developing in new times and places.
Anglican prayers reflect our strong belief in the goodness of God's creation. We hold an optimistic view of humanity. We believe that we are part of God's good creation and are confident in God's plan to bring us to our full potential as members of God's human family. We believe that we are the stewards of creation, called to care for the natural world. We are called to take responsibility for the social order, to ensure that our society is a just and welcoming place for all people. We believe that God calls the church into being in order to do God's work, transforming culture and making the world a place where God is known and God's purpose fulfilled.
In the parish library, you will find books about Anglican history and practice. Two books that will tell you more about the Anglican Church are This Anglican Church of Ours and Meet the Family: Welcome to the Anglican Church of Canada. Both books are by Dr. Patricia Bays, an active All Saints' parishioner.
How We Worship
Anglican worship is "common prayer," using set liturgical texts printed in prayer books (The Book of Common Prayer and The Book of Alternative Services) and in the Sunday leaflet. For Anglicans, the familiar prayers repeated each Sunday allow us to enter into worship more deeply as we offer our worship and ourselves to God.
Anglican worship is biblical. Our liturgical texts are full of scripture. At each service, we hear three passages of Scripture and a psalm. The lectionary (list of readings) covers much of the Bible over a 3-year period.
Anglican worship is sacramental. We believe that God's grace is expressed through material things – bread, wine, water, oil. The weekly Eucharist is at the heart of our lives, giving us food for the journey. It brings us into communion with God and with each other. Baptism and other sacramental rites mark important moments in our religious life, both as individuals and as members of a community.
Anglican worship involves both clergy and lay people. The priest presides at the altar. Lay people (men, women and children) assist. They read scripture lessons, lead in the intercessions, assist with the Eucharist and lead in the singing. We all participate by joining in hymns and prayers. Anglican worship is a community activity.
You will see in a central position at the front of the church the altar, the table at which the Eucharist (Holy Communion), is celebrated every Sunday. You will see to one side the font where baptisms take place 4 or 5 times a year. Baptism is the way that we receive the gift of new life and become part of the Christian community. You will see stories from scripture in stained glass, and crosses and other symbols of the Christian faith. You will see the colour of the season in the altar hangings and vestments.
Governance
All Christians are called to bring to others the good news of God's love. The baptismal covenant (in the Book of Alternative Services, p. 158-9) describes our call. Out of this ministry of all Christians, some people are called and ordained to special ministries in the church. The Anglican Church has three historic orders of ordained ministry: bishops, priests and deacons. All orders of ministry are open to both women and men.
The bishop has oversight of the church in a particular diocese, a geographical grouping of many parishes. Bishops ordain and appoint clergy; they celebrate baptisms and confirmations. They chair meetings of diocesan synods (gatherings of clergy and laity to transact the business of the diocese.) They meet with other bishops nationally and internationally. Priests are ordained and authorized to baptize, to celebrate the Eucharist, to hear confession and pronounce the absolution. They are responsible for the life of the parish and share with other clergy responsibility for the life of the diocese. 
A deacon is one ordained to a ministry of service to others. All priests are first ordained as deacons. Some choose to remain deacons permanently, with a ministry of service. 
Lay people assist the ordained clergy in the running of the parish and in the pastoral ministries that are offered. Some lay people help during worship services as readers of scripture, in leading the prayers, as servers (generally ages 11 to 16), as diaconal ministers, and as those helping to administer at Communion.
Each week we gather at All Saints' for worship, for community and support, and for mission and outreach to our community and beyond. At the annual Vestry Meeting in February, we elect wardens, delegates to synod, and members of the parish council. This group takes responsibility for looking after the church buildings, finances and programs.
We belong to the Anglican Diocese of Ottawa and send representatives to synod to discuss concerns and make decisions about the life of the Anglican Church in this area. As a diocese, we send representatives to Provincial Synod (regional gathering of dioceses mostly in the province of Ontario) and the General Synod of the Anglican Church of Canada, which makes decisions about our life as an Anglican church in this country.
A Contemplative Garden on Richmond Road
If you stroll by All Saints' Anglican Church with First United Church, you will be able to pause and rest on one of the benches in our courtyard garden. Sheltered by healthy linden trees and made beautiful by the many shrubs and flowers which frame the courtyard, this place has become a haven for neighbours and strangers, pets and baby strollers.
Tucked into the east side of the property is a new garden which we call the Healing Forest, dedicated to the memory of the children of the residential schools.  To acknowledge our relationship with the Indigenous people of Canada, we have set aside a small green space for peaceful reflection.
Follow the gravel path into this space where you may rest on one of the rocks at the centre. We hope you will find this a place for contemplation, prayer, or conversation with a friend.
Green Living
All Saints' Westboro has a history of concern for the environment and love of Creation. The parish received a Green Church Award from the Ottawa Diocese in 2001, and an Ottawa Lady Bug Award for Natural Garden Care in 2006. In 2004, Corporation of ASW contracted John G. Cooke & Associates, Consulting Engineers to conduct a comprehensive assessment of buildings, note deficiencies, and recommend and prioritize repairs. Their report, which also addressed public safety and operational costs, and an Electricity and Energy Audit conducted by the EnviroCentre in 2007, provide guidance for the Property Committee's on-going stewardship.
To date we have installed a tankless hot water heater (2008), converted lighting to more energy-efficient forms (2010-13), insulated the roof of the chapel in conjunction with the installation of a Decra 50-year steel roof on the Chapel and church hall complex (2010), completed a program of window replacement (2012), and installed new high efficiency gas-fired boilers in conjunction with the renewal of the radiant in-floor heating system in the sanctuary (2013).
In the last 2 years, working with the Faith and the Common Good organization we have achieved the light green and medium green certification.  We now have a group working on the highest certification (dark green).